4 ways to stop scrolling and start talking
4 ways to stop scrolling and start talking
I have thoroughly lost count of how many times I've noticed couples and families at a restaurant looking down at their phones, more than at each other. Even worse, I've also been guilty of looking up something on Google "real quick," at dinner, and start unconsciously scrolling through my Facebook or Instagram feed. If it wasn't for a member of the wait staff coming to the table, there is a good chance I wouldn't have snapped back to attention.
Long days at the office require "recharge" times which could equal putting those feet up on the coffee table and watching TV. The rabbit hole of technology is often just too good to pass up.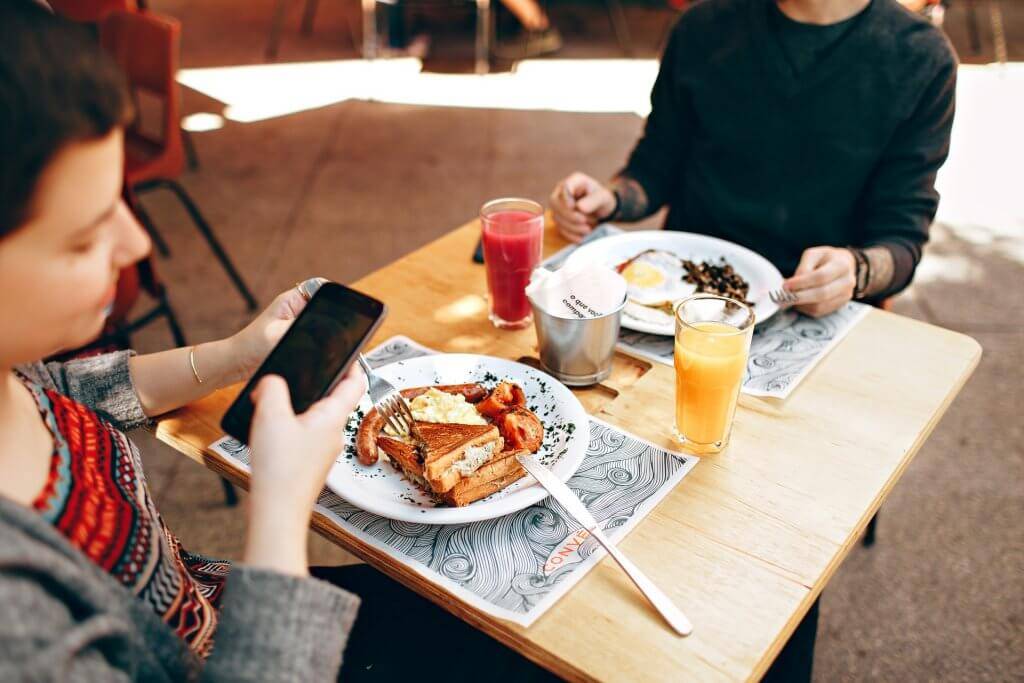 Don't get me wrong; technology is an excellent tool to keep us connected to friends and loved ones who live away from us. But it also makes it easier to forget to connect with those relationships closest to us. Smartphones and our constant connectivity have become a blessing and a curse.
Deep, meaningful conversations have fallen by the wayside in a world of emoji's, memes, and gifs – looking for our next fix of instant gratification.
It's time to disconnect and reconnect. But how?
Over the last year, I've become very passionate about this topic because I began to see how technology was affecting my marriage. Recently, my husband switched careers to something he loves which means he is happier to work more! When the opportunity arises to take a class to further his career, or work overtime, he grabs at it because it doesn't feel like work to him. I should mention that he's apprenticing to become an Elevator Mechanic. A pretty hard job, don't you think? When he gets home from work, he's exhausted from the physicality of the situation, so it's easy for him to "check out" on the couch and recharge. But where does that leave our marriage and communication? In the laundry basket, near all of his dust ridden clothes – that's where. I knew something had to be done, because the truth was, I missed my husband. I loved that he had a career he was excited about, but I also missed connecting with my best friend of nine years. That's why we've worked on a few new rules around the house!
Set Aside "No Tech" Times
So many moments in my life have been ruined because of technology. There is no bigger mood killer than cell phones ringing and dinging when you're trying to have a romantic evening with your partner. That's why we turn them off! We've found that setting aside blocks of time to turn our phone off, or turning off the sound and hiding them in a different room has been helpful. Cutting ties with technology even for an hour will free our mind enough to focus on each other. Better yet, my husband and I create "No Phone" zones, like in our bedroom or living room. Imagine what it would be like to have a rundown of the day with your partner before bed, rather than mindlessly scrolling through social media. One of my best friends and her spouse take a moment before falling asleep to talk about what they accomplished during the day, and what they hope to get done tomorrow. Definitely more rewarding than scrolling through that pesky feed one more time!
Plan A Game Night
Game nights are a favorite in our household because it gives us the opportunity to cut loose, and bond in a fun way. It's something we enjoy doing just the two of us, or when we have dinner parties! One of our favorite games to play is called Vertellis, which is a question card game that is geared towards opening up the lines of communication and being mindful. Because of Vertellis, we've shared so many great stories, shed happy tears, and learned to appreciate each other, and our friends and family more. Andrew and I married after a relatively brief courtship of six months, which means we didn't have a chance to get to know our in-laws that well. Playing a game like Vertellis would have been the perfect icebreaker for those oddly uncomfortable holiday dinners.
Stop Eating Dinner In Front Of The TV
Having meals in front of the TV takes away such a fantastic opportunity to connect with loved ones. Not only that, once the TV is turned on, it's nearly impossible to turn it off again. One episode of a favorite new show on Netflix turns into two or three. Newton's First Law of Motion states that a body at rest, stays at rest and the same can ring true for the mind and conversation. Allowing TV shows to do the talking, discourages the mind to be genuinely engaged.
The same can also be said for watching TV right before bed as well. The bedroom is for sleeping and, well… other stuff ;). That's why we don't even have a TV in our room!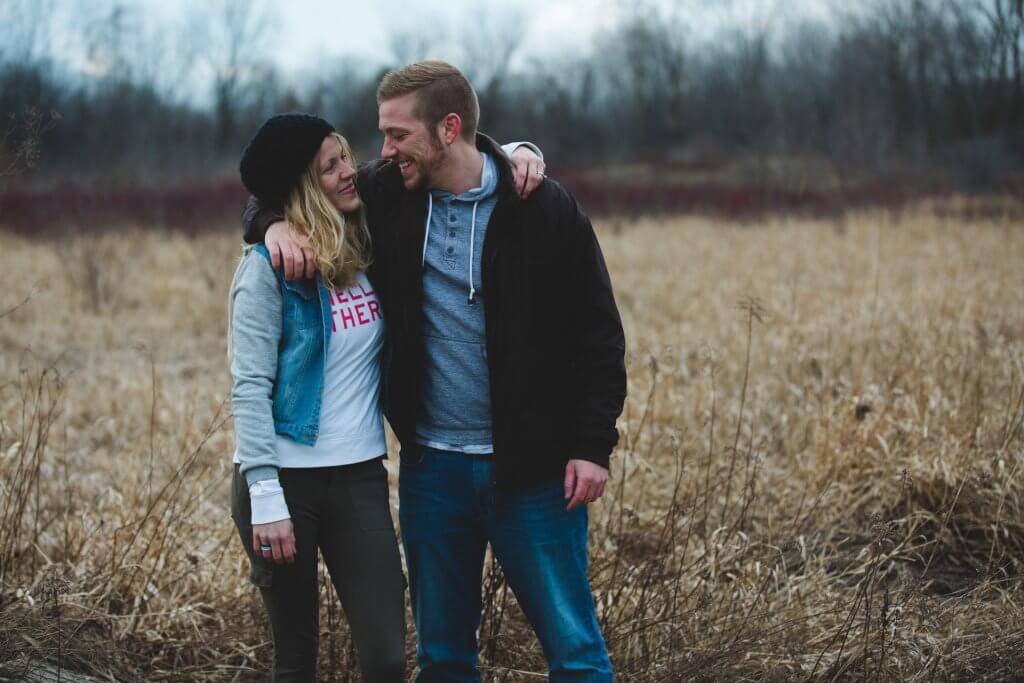 Nature Days
Remember that conversation game I mentioned earlier? We use Vertellis on our hikes too! Living in Florida, we're lucky to have some fantastic walking trails, albeit a little wet but beautiful nonetheless. There is nothing better than enjoying nature while having a great conversation at the same time. It fits comfortably in our backpack, and we can casually select a few cards to discuss. Feeling the freedom of wide open spaces while we hike near the Hillsborough River always heightens our talks, and we end up delving into topics that we ordinarily wouldn't consider during our busy days. Being able to create those fond memories lend themselves to more conversation in the future, as well.
With the hope to stimulate more conversations in your day to day, let me share a few of my favorite questions from the Vertellis Relationship Edition. Because who doesn't want to have relationship goals?
How can you make your partner's day a little more beautiful tomorrow?
What recent experience or event was a learning moment?
Who or what has had a positive influence on your partner lately?
We were lucky enough to figure out that there are so many ways to bring the conversation back to life. The hardest part for us was recognizing the issue, and being aware of the things that kept us from engaging. Being more mindful isn't always easy, but it's entirely worth it.
Enriching conversations can inspire your heart, soul, and those around you. Talking out loud, sharing ideas, and passions in your life can bring you and your loved ones closer together. All it takes is putting down the phone, and turning off the computer and TV to allow those most intimate connections to get even closer.
A STRONGER CONNECTION WITH YOUR PARTNER!❤️
The Relationship Edition has brought thousands of couples closer together. 
This game will make you feel closer and help you connect on a deeper level with your partner. 
Rediscover each other and grow as a couple
Fun and important conversations in one box
Spend time intentionally together, without a phone
Great relationship building activity
We throughly enjoyed the togetherness that these cards engendered. Our relationship was greatly strengthened and we anticipate much fun with these cards on future couple dates. If your relationship is threatening to run aground on the shoals of life, these cards will help to pull it into safe harbors. If you already have a great relationship, these cards will likely make it even better. Highly recommended!
Thank you so much for your kind words and support, Jennifer! It's very inspiring to know that you've enjoyed the togetherness that the Vertellis Relationship Edition game has created in your relationship. Here's to an even stronger bond, open communication, and wonderful new memories for you and your partner!
Relationship edition!
Gave it to my sweetheart, married 20 years, we're both in our 70's for Valentines Day. Over a romantic dinner, we began...the best conversation ever!! Thank you!
1 comment
Have you thought about an electronic version? When we are caught going to our phones, we could switch over to the app and find questions to ask each other. That way we have no excuse, like this great game I have, but it's at home.
Elspeth Coats
on
April 09, 2019